East End Pond located in East End Village is Anguilla's only protected salt pond. The Anguilla National Trust has been entrusted with the care of this Crown-owned site. This shallow 13 acre seasonal pond, is partially spring fed. It fills with water during the rainy season beginning in September, and tends to dry out starting in late February. About a quarter of the original pond was filled in many years ago and is bounded by the road on the southeast and northeast sides. The infilled area close to the road provides parking for the site. The north and west shores are comprised of limestone.
A variety of aquatic vegetation is present in the pond along with Buttonwood and Red Mangrove. A high concentration of Fiddler Crabs provide a great food source for herons, egrets and larger shorebirds.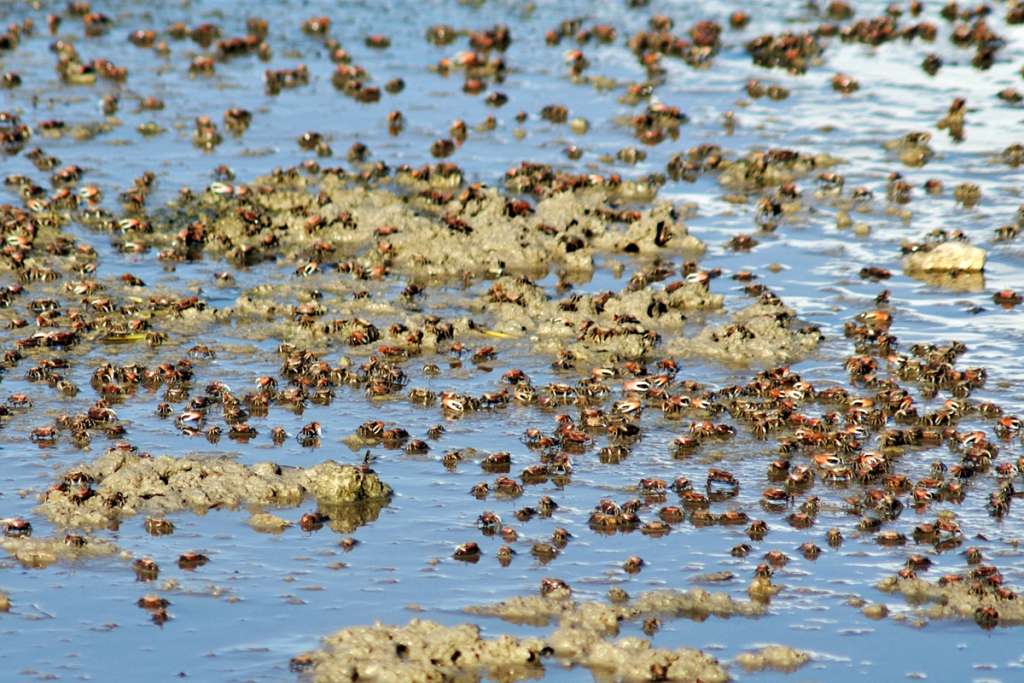 East End Pond is a common grazing spot for goats and sheep. Further, the invasive Green Iguana is present and can often be seen sunning on the north shore.
Thanks to aquatic vegetation, a wide variety of waterfowl are attracted to the site including: White-cheeked Pintail, Blue-winged Teal, Pied-billed Grebe, Scaup, American Coot, American Wigeon, and Common Gallinule. Other visitors include Ruddy Duck, Sora Rail, Northern Pintail, and Northern Shoveler. Ruddy Ducks often breed here during the winter months.
All three species of Egret (Great, Snowy and Cattle) are present throughout the year as well as the Green Heron. Overwintering birds like Great Blue and Tricolored Herons favor this pond. Keep an eye out for rarities like Glossy Ibis, Snow Goose and the West Indian Whistling Duck.
This is one of the best spots on the island to view Whimbrel.
An excellent variety of shorebirds is present during the Spring and Fall migration including: Semipalmated Sandpiper, Least Sandpiper, Greater and Lesser Yellowlegs, Stilt Sandpiper, Spotted Sandpiper, Western Sandpiper, Black-bellied Plover, and Semipalmated Plover. An occasional Wilson's Plover can be spotted.
During the Fall Migration, look for Pectoral Sandpipers along the rocky shoreline. During the summer months look for Black-necked Stilt, Killdeer, Willet and Least Tern, as this is a prime nesting site for these species. Visitors are more likely to see a recently fledged or juvenile Yellow-crowned Night Heron, than to actually see the nest of this species.
Survey the stands of Buttonwood around the pond for Anguilla's National Bird, the Zenaida or Turtle Dove, as it is known locally. Also present are Common Ground Dove, Yellow Warbler, Bananaquit, Black-faced Grassquit, Caribbean Elaenia, Lesser Antillean Bullfinch, Pearly-eyed Thrasher and White-winged Dove. There is at least one pair of American Kestrels that frequent East End Pond. From October to April look for Peregrine Falcon and Osprey in the vegetation on the north side of the pond.
From the Airport Roundabout: Head east toward The Valley Road for 20 m. Exit the roundabout onto Wall Blake Road 350 m. Turn left onto Mahogany Tree Road for 750 m. Turn right onto Albert Lake Drive for 2.9 km. Continue onto Long Path Road for 1.5 km. At the roundabout, take the 1st exit travel 2.1 km Destination will be on the left.
Note: As you enter the parking area, keep an eye out for nesting Killdeer.