Mensura-Piloto National Park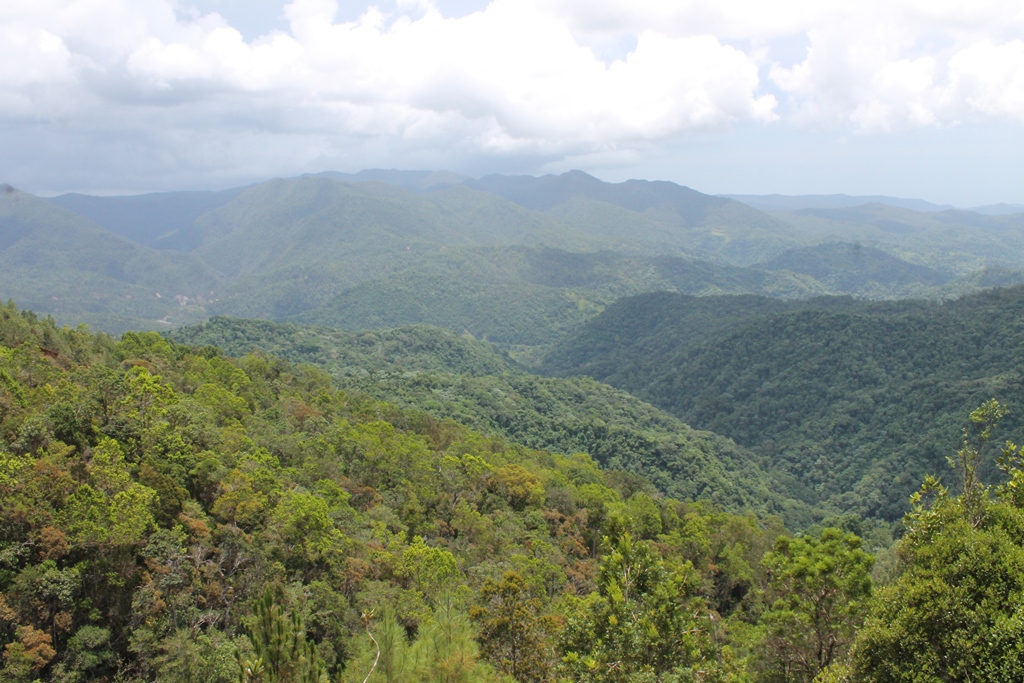 Mensura-Piloto National Park (MPNP) was designed a protected area in 2002, and rightfully so. The park possesses some of the greatest diversity of plants and animals in the country, complementing the nearby mecca of diversity, Alejandro de Humboldt National Park, located just three hours to the east. More than 120 of the 750 plant species found here are local endemics. Incredibly, there are 114 species of molluscs registered to this area, 90% of which are locally endemic.
MPNP also boasts more than 200 species of orchids.
MPNP encompasses nearly 85 km2 of beautiful mountain landscapes across the Sierra de Nipe, carpeted by a mix of scrub, humid, and pine forests. Remaining native pine forests within the Caribbean are always worthy of recognition, and the Pinares de Mayarí (Mayarí Pine Forests) in MPNP—filled with native Pinus cubensis—are no exception.
Hike up through the different forest types on one of the four main trails overseen by the park. You'll top out with an incredible view from the highest point at 995 masl. Along the way, enjoy a stop at any of the numerous waterfalls and wading pools, including Poza Rafael and Guayabo Falls, the highest waterfall in Cuba that drops over 200 meters in total.
Observation towers at the falls
More than 50 percent of the bird species recorded here are endemic to Cuba, and the area is an important site for migratory birds as well. Local avifauna comprises more than 120 species of birds, including 17 endemics and some species with restricted distribution such as the Olive-capped Warbler (Setophaga pityophila). The largest populations of Black-throated Blue Warbler (Setophaga caerulescens) winter in these pine forests. Neotropical migrant species make up about 30% of the local avifauna here.
Target bird species: Gray-fronted Quail-Dove, Cuban Solitaire, Olive-capped Warbler, Gundlach's Hawk, and Giant Kingbird.
Endemic species/subspecies: Cuban Green Woodpecker, Cuban Pygmy-Owl, Oriente Warbler, Cuban Grassquit, Gundlach's Hawk, Gray-fronted Quail-Dove, Cuban Solitaire, Cuban Vireo, and Cuban Oriole.
Species of restricted range: Olive-capped Warbler and Oriente Warbler
Endangered/Critically endangered species (According to IUCN): Giant Kingbird and Gundlach's Hawk.
Species that breed here: Cuban Trogon, West-Indian Woodpecker, Northern Flicker, Red-legged Thrush, Olive-capped Warbler, Gundlach's Hawk, Cuban Green Woodpecker, Cuban Grassquit, and Cuban Tody
Common and/or special migratory bird species present here: Black-throated Blue Warbler, Cape May Warbler, Yellow-throated Warbler, Black-and-White Warbler, American Redstart, Common Yellowthroat, Indigo Bunting, Belted Kingfisher, Northern Harrier, Merlin, and Peregrine Falcon.
There are direct flights with American Airlines from Miami (MIA) to Holguin (HOG), Cuba. From there, you're looking at a 1.5-2 hour drive to the southeast to reach the national park.
Mayarí is located 84 km away from Holguín city; the easiest way to go from there is taking the direct road to Mayarí, and from there a 27 km route to Pinares de Mayarí (Pine forests of Mayarí). The entrance fees are between 4 and 6 CUC/person to walk the trails
Villa Pinares de Mayari: this hotel is located at 700 masl on the Meseta de Pinares de Mayarí within the Sierra de Nipe mountains.
Anel Matos Viñales; Estación CITMA Pinares de Mayarí
Carlos Peña Rodriguez; CISAT, Holguín, contactar para más info a Carlos Peña ([email protected])
Mensura-Piloto National Park