Del Este National Park: Guaraguao
Guaraguao is one of the official entrances to the 48,825 ha Del Este National Park. The park contains an extensive area of dry forest and adjoining mangrove habitat where you are likely to find White-crowned Pigeon, Hispaniolan Parrot, Mangrove Cuckoo, Hispaniolan Lizard-Cuckoo, Broad-billed Tody, Antillean Piculet, Hispaniolan Woodpecker, Stolid Flycatcher, Flat-billed Vireo, Black-whiskered Vireo, and Greater Antillean Bullfinch.
There is a single trail here which begins at the guard house. The 3-km (1.9 mile) trail is at first sandy and skirts coastal habitats, but it then moves away from the immediate coast and passes over rough dogtooth limestone. This initial section of beachside trail is usually a very good area to see Hispaniolan Lizard-Cuckoos and Hispaniolan Woodpeckers. Wherever possible, look for small openings and side trails down to the beach where you might find shorebirds, waders, or seabirds further out. There is also a very small permanent pond located approximately 200 meters south from the spot where the trail makes a westerly turn inland from the beach, and sometimes harbors migrating Blue-winged Teal, as well as other waterbirds. Within this same area are often several breeding pairs of White-necked Crows. You will easily ascend two small (2-3 meters) limestone ridges en route to El Puente Cave. The trail between these ridges runs through a relatively level area which usually harbors several Hispaniolan Parrots, as well as Broad-billed Todies, Antillean Piculets and Black-crowned Palm-Tanagers. When you reach El Puente Cave, look for an Ashy-faced Owl that sometimes roosts inside, in addition to hundreds of bats. Further on, the trail becomes much less distinct, if even recognizable, and caution should be exercised in order not to become lost if one ventures forth into this area. However, Limpkins have been both seen and heard in this area.
Target Species
Limpkin, White- crowned Pigeon, Hispaniolan Parrot, Hispaniolan Lizard- Cuckoo, Ashy- faced Owl, Broad- billed Tody, Antillean Piculet, Hispaniolan Woodpecker, Flat- billed Vireo, Black- whiskered Vireo, White- necked Crow, Northern Mockingbird, Northern parula, Green- tailed Ground- Tanager, Black- crowned Palm- Tanager, Yellow- faced Grassquit, Greater Antillean Bullfinch
The trip from Santo Domingo to Bayahibe takes three hours. See Site D25: Padre Nuestro Trail for detailed directions to Bayahibe. As with the Padre Nuestro Trail, you must go to the park office located where the tour buses park in the village of Bayahibe to purchase tickets. You may want to buy a ticket in advance so you may enter at sunrise.
To reach the Guaraguao entrance return north to the fork in the main road just outside of the village of Bayahibe. Here you will want to head southeast by making a hard right turn, if coming from Bayahibe, or bearing left at the fork, if coming from La Romana. You will be driving towards the all-inclusive resorts in an area known as Dominicus Americanus. After approximately 4.0 km (2.5 miles) you will pass the last hotel on the right. Follow a sign for the Guaraguao entrance and continue towards the right along the dirt road at the foot of the resort's high stone wall. When you reach a small gate, continue on to the guard house which sits on the beach just beyond.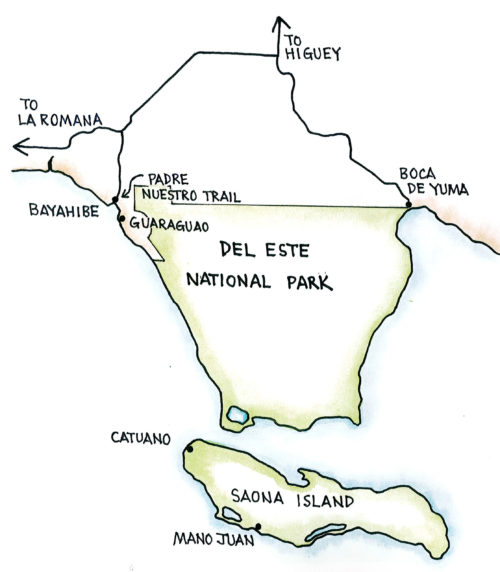 Reserve hours: 8:30 AM to 5:00 PM, Monday to Sunday
Entrance fee: $100 RD
Del Este National Park: Guaraguao