West End By-the-Sea Ponds
Tucked away on the northwest coast of Anguilla is a small wetland area known as West End By-the-Sea Ponds. Located just past a small tourism property, these ponds, and the associated West End Bay, are in rich mangrove stands and bird life.
Separated by a dirt road that leads to the beach favored by local fishermen, the western side of the pond often dries out. When the seas are high, the water washes over the sand and fills the pond with small fish—a delicacy for herons. It is not uncommon to see Yellow-crowned Night-herons and Green Herons feeding at this location.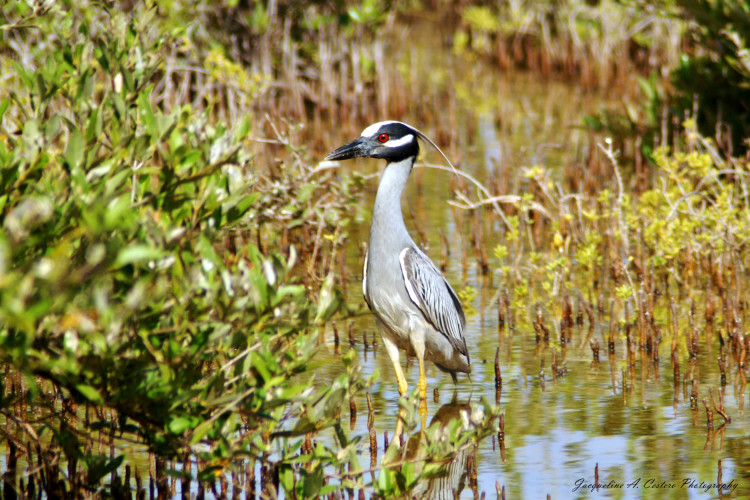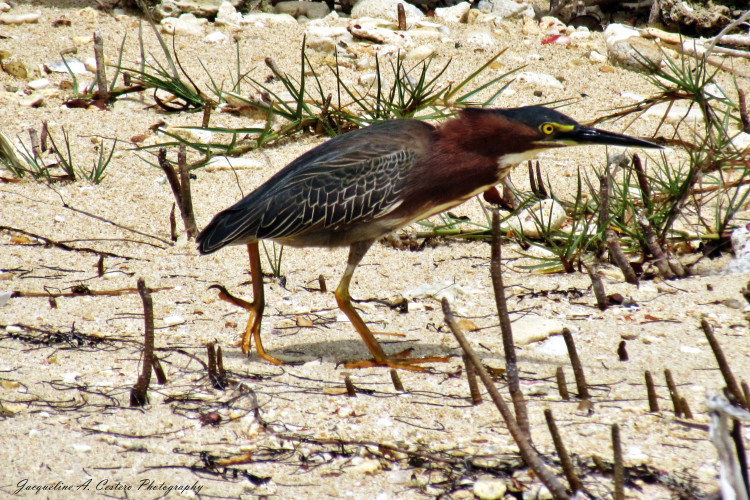 Shorebirds such as Black-necked Stilts, Lesser and Greater Yellowlegs, Spotted Sandpipers, and Stilt Sandpipers are often seen on the eastern side of this wetland. Common waterfowl include: White-cheeked Pintails and Blue-winged Teals, along with an occasional Common Gallinule. You may even see a Green Iguana take a plunge in the waters.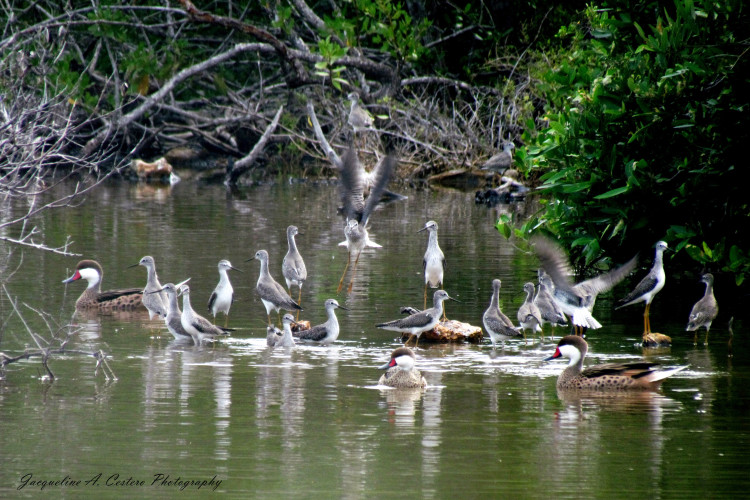 The Buttonwood surrounding the pond is an excellent place to see warblers, kestrels and all five of Anguilla's Lesser Antilles Restricted Range species. During the summer months, seabirds frequent West End Bay to feed, and the beach is often covered in shells and sea glass. This small wetland ecosystem is a great location to visit year-round and an excellent location to watch local fishermen as they capture bait fish with their nets.
There are also range restricted species such as Pearly-eyed Thrasher, Lesser Antillean Bullfinch, Green-throated Carib, Antillean Crested Hummingbird, and Caribbean Elaenia
From the airport roundabout, travel west on the main road for approximately 8 miles. You will see West End Pond on your left and a fork in the road heading to the right past West End Apartments. Take a right on the dirt road at Indigo Reef for about 100ft and West End Bay will be at the end of the road with the wetland on either side. This is a favored site of Nature Explorers Anguilla.
West End By-the-Sea Ponds