Pointe des Chateaux Grand National Site is in the town of Saint-François on Grande-Terre and is one of the most visited sites in Guadeloupe, known for its 10 km of hiking paths. A steering committee in the Ministry of Ecology and Sustainable Development works to develop hiking trails, protect the beaches and salt marshes, and establish interpretive signage.
The area is well-maintained for visitors, with bathrooms, garbage cans, and parking lot at the end of the road (as well as several smaller parking areas and wide shoulders for accessing different beaches and lagoons on the road to the far point).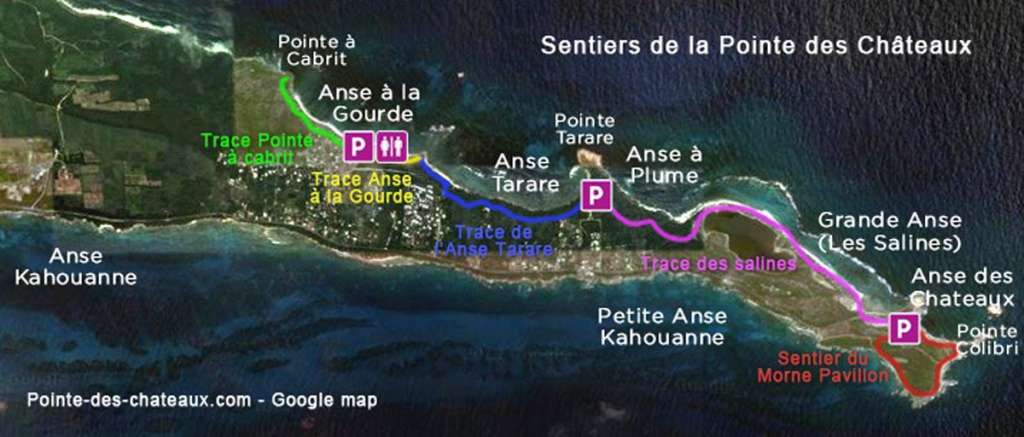 The Trace Pointe à Cabrit is about a 25 minute walk, Trace Anse à la Gourde is about a 15 minute walk, Trace de L'Anse Tarare is about a 40 minute walk, Trace des Salines is about an hour walk, and Sentier du Morne Pavillon is about an hour walk.
Along the trails, there are numerous view points, particularly at Pointe des Colibris at the end of the island which offers 360 degree views and on which also stands a monumental cross which was first erected in 1951 and recently replaced by a monumental cross of 9 tonnes and 10m high.
The Arawak Indians used the site in 300 AD and stayed for 1100 years. the Cappucins were here in 1683 and built a church called "Parish Castles," which is how the site got its name, Pointe des Chateaux or Castle Point. There are no man-made castles here, however, the monks could have been referring to the rocky headlands and islands just offshore.
The birding can be great, especially in the peak of migration and on stormy and extra windy days when the birds will need a rest. Look out for shorebirds between July and November en route to South America.
March to June is an incredible period to boost your Caribbean list if you have a scope: Manx's, Audubon's, Great, Cory's and Sooty Shearwater are not exceptional here, you can even get them all in a single day (in May) when weather is good for migration (strong easterly wind is the best to push birds closer to the shore). You can also spot the two Storm-petrels (Wilson's and Leach's) and all five Skuas/Jeagers species, but don't forget to carefully check all the white terns, for the migratory Arctic Tern!
The peninsula has enough vegetation that it could also be an excellent stopover for migrant songbirds. Good numbers of Blackpoll Warblers and Yellow-billed Cuckoo could be seen in October, Swallows are also using this bottle neck to leave the land (Aug–Oct).
There are several easy trails and lots of walking on beaches and rocky substrates. Good tide-pooling (for the Caribbean), some very shallow lagoons protected by reefs, and fun scope viewing of the tropicbirds just offshore (e.g. peregrines chasing tropicbirds).
From Saint-François, go east on D118, past the golf course and airport, for 11 km to the end of the road. The inland lagoon is accessed via openings in the mangroves or a trail/road that parallels the peninsula.