Del Este National Park: Boca de Yuma
The 11,000 ha Saona Island is the largest Dominican offshore island and forms part of Del Este National Park. Fleets of catamarans and small motorboats carrying tourists arrive to anchor in shallow waters off the beach. But the good news for the birdwatcher is that most of these visitors remain at a few popular beaches.
The main attraction for the birdwatcher will be the extensive and impressive Magnificent Frigatebird colony at Las Calderas, which is actually on the mainland near Saona, but is most accessible on Saona Island tours. Saona Island also provides habitat for many other species of waders and landbirds. In addition, Saona hosts a wide variety of shorebirds, warblers, and other passage migrants in season.
You must arrange for a boat to the island in the park office or with one of the tour operators. If not taking a tour with EcoParque, see what is available in Bayahibe.
Aside from seeing the Magnificent Frigatebird colony, you may want to work your way around the island by boat. Look for egrets and herons, White-crowned Pigeon, and Mangrove Cuckoo. But you may also choose to walk inland a bit. There is a 4 km (2.5 miles) trail that leaves from Mano Juan, the only settlement on the island. In addition, there are trails to the Lagoon of Flamingos and another to Punta Cruz. Typical species to look for include Common Ground-Dove, Key West Quail-Dove, an endemic subspecies of the Hispaniolan Lizard-Cuckoo, Antillean Piculet, Stolid Flycatcher, Greater Antillean Bullfinch, White-necked crow, and Green-tailed warbler.
Target Species
American Flamingo, Brown Booby, Red- footed Booby, Brown Pelican, Magnificent Frigatebird, Snowy Egret, Tricolored Heron, American Oystercatcher, Royal Tern, Sandwich Tern, White- crowned Pigeon, Mangrove Cuckoo, White- necked Crow, Caribbean Martin, Palm Warbler, Green- tailed Ground- Tanager
The trip from Santo Domingo to Bayahibe takes about three hours. Head east from Santo Domingo on the main coastal highway to San Pedro de Macorís, then continue on to La Romana passing over the Río Cumayasa bridge (Site D24). About 10.9 km (6.8 miles) east of the Río Cumayasa bridge, turn right at a stop light following signs for Casa de Campo and Higuey. Cross the Río Chavón, pass straight through a rotary, until arriving in 19.3 km (12 miles) at a prominent fork in the road (the "La Romana-Bayahibe fork"). Stay right and follow the signs to Bayahibe. In less than 8.0 km (5.0 miles) you will see a prominent gravel road on the left; this is the short entrance road to Padre Nuestro Trail (Site D25). But continue on the main road another 0.2 km (0.1 mile) to another fork in the road. Bear right to enter Bayahibe village. At the next fork, in front of a small town park, bear right again into a large parking lot often filled with buses. The National Park office is here on the right. Purchase tickets here, or with another local tour operator, for boat tours to Isla Saona. In order to visit Las Calderas, contact the park office or the local conservation organization, EcoParque.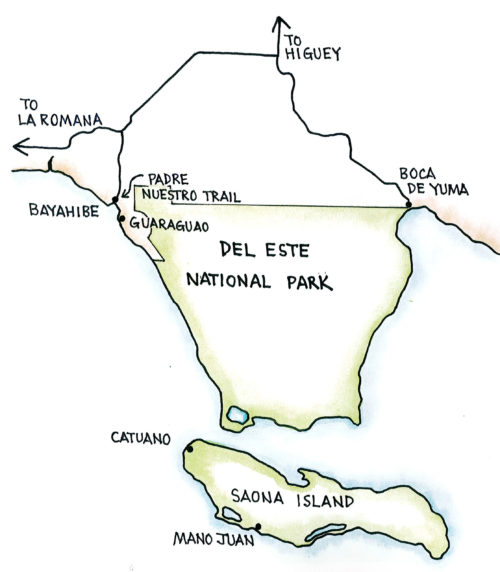 Reserve hours: 8:30 AM to 5:00 PM, Monday to Sunday
Entrance fee: $100 RD; plus guided tour fee
Telephone: National Park office, 809-833-0022
Del Este National Park: Boca de Yuma