Portland Bight Protected Area
The Portland Bight Protected Area (PBPA), at 724 square miles (or 187,615 hectares) is by far the largest protected area in Jamaica. Its land area (200.4 square miles) is 4.7% of the island of Jamaica, and its marine area (523.7 square miles) is a significant part of Jamaica's shallow shelf.
The Portland Bight Protected Area runs all the way from the western part of Kingston Harbour, through the Hellshire Hills, then along the Brazilletto Mountains towards Portland Ridge and ending above Rocky Point in Clarendon.
According to the Caribbean Coastal Area Management Foundation:
Dry limestone forests cover 41% of the land area of Hellshire, Portland Ridge, and Braziletto Mountain… this unique forest is rated as the largest relatively intact forests of that type left in Central America and the Caribbean (81 sq. miles, 210 sq. km).  Another 16% of the land area (32 sq. miles, 82 sq. km) is valuable wetlands, the largest almost continuous mangrove stands remaining in Jamaica (about 48 km long).  Parts of the mainland shoreline, as well as many of the coral cays within the Bight, are major nesting areas for sea birds and endangered sea turtles including Hawksbill Turtles and Green Turtles.
The Hellshire Hills have been described as one of the last substantial areas of primary, undisturbed dry forest in the Caribbean. The endangered Jamaican iguana (Cyclura collei) is restricted to dry forests in the Hellshire Hills. The endemic tree frog, two endemic Thunder snakes, and the endemic Blue-Tailed Galliwasp are restricted to the Portland Ridge. Other endemic species present in the area include the Jamaican boa, the Common Snake, the Grass Snake, the Jamaican Coney and 11 endemic subspecies of birds. The last Jamaican populations of the skink are believed to be in the Hellshire Hills.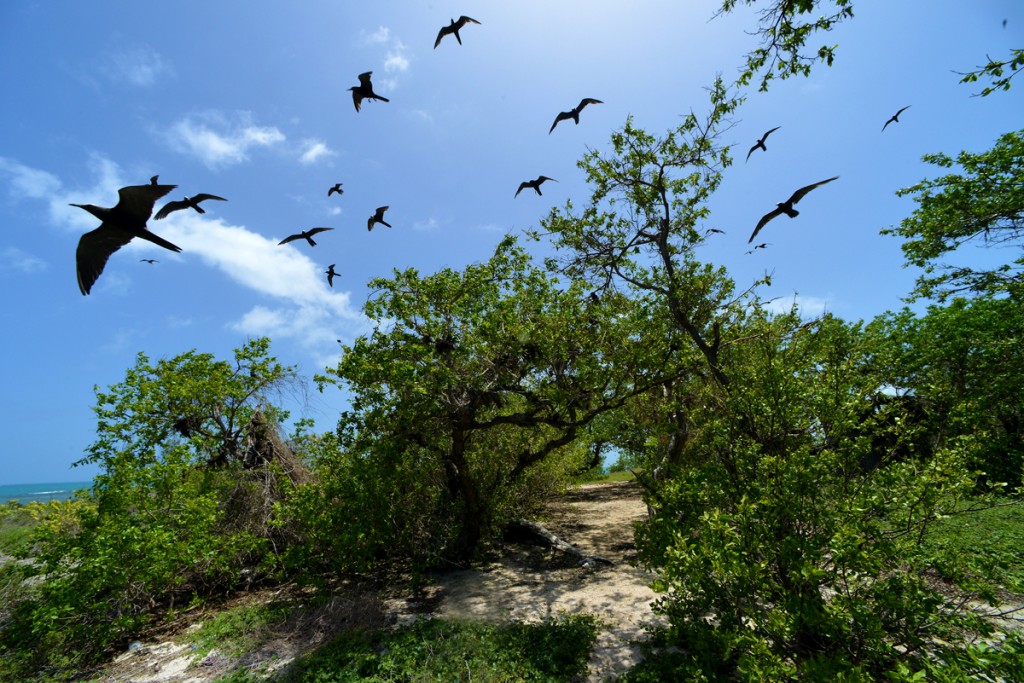 According to BirdLife International's Important Bird Areas in the Caribbean, this area supports populations of 17 (of the 36) Jamaica Endemic Bird Area restricted range species, including the endemic subspecies of Bahama Mockingbird. Significant populations of the Vulnerable West Indian Whistling-duck and Near Threatened Plan Pigeon and White-crowned Pigeon occur although species numbers are unknown. Regionally important numbers of Magnificent Frigatebird and Brown Noddy nest on the Portland Bight cays.
Portland Bight Protected Area