Del Este National Park: Saona Island
Boca de Yuma is a small town and a good alternative entry point to the vast Del Este National Park. Because of its location on cliffs above the ocean and its lack of an easy access to a beach, the town has escaped much of the tourist developments and maintains the easy atmosphere of rural Dominican Republic. You are likely to find White-crowned Pigeon, Hispaniolan Parrot, Mangrove Cuckoo, Hispaniolan Lizard-Cuckoo, Broad-billed Tody, Antillean Piculet, Hispaniolan Woodpecker, Stolid Flycatcher, Flat-billed Vireo, Black-whiskered Vireo, and Greater Antillean Bullfinch.
From the park office the well marked trail starts out along agricultural lands, but then climbs through dense trees along a coral cliff. Passing through the gate at the front of the park house, continue straight ahead along a well-worn path. This path travels between nice dry forest and a cattle pasture. The trail is relatively flat and smooth, the limestone rocks having been cleared away. You will soon find yourself passing by an incongruous but perfectly built, 2-m high, coral stone wall. Take either the first or the second right-hand forks on this trail. They both lead up the limestone escarpment and to the remains of a tower on the ridge. The birdwatching is good, especially for seabirds, when you have a good vantage from the cliffs of the water below. With a park guide you may also walk inland to see additional pre-Columbian Taino caves. Hiking this trail may last 2 – 3.5 hours.
Target Species
Helmeted Guineafowl, Brown Booby, Limpkin, Double- striped Thick- knee, American Oystercatcher, Brown Noddy, Caspian Tern, Hispaniolan Parrot, Hispaniolan Lizard- Cuckoo, Ashy- faced Owl, Northern Potoo, Broad- billed Tody, Antillean Piculet, Flat- billed Vireo, White- necked Crow, Northern Parula, Green- tailed Ground Tanager
Head east from Santo Domingo on the main coastal highway to San Pedro de Macorís, then continue on to La Romana passing over the Río Cumayasa bridge (Site D24). About 10.9 km (6.8 miles) east of the Río Cumayasa bridge, turn right at a stop light following signs for Casa de Campo and Higuey. This bypass will take you around the city of La Romana. Cross the Río Chavón, pass straight through a rotary, until arriving in 19.3 km (12 miles) at a prominent fork in the road (the "La Romana-Bayahibe fork"). Continue on towards Higuey, but 15.4 km (9.6 miles) later you will turn southeast (right) and away from Higuey on Route 4 towards Boca de Yuma. In 7.6 km (4.7 miles) you will pass under an arch and over some speed bumps signaling the town of San Rafael de Yuma. Continue south through cattle grazing country approximately 11.3 km (7.0 miles) to the town of Boca de Yuma. As you pass through town you may notice some damaged park signs instructing you to turn right, but ignore these and continue on the main road until you reach the T-intersection at the coast. Turn right here and go about 1 km (0.6 miles) to the park office; this road can be rough and you may consider 4WD if it has been raining.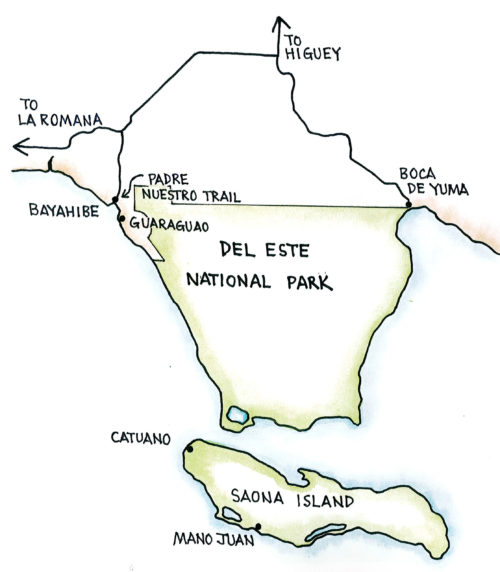 Del Este National Park: Saona Island