Lago Enriquillo is an integral part of the Jaragua-Bahoruco-Enriquillo Biosphere Reserve. It comprises a closed system of hyper-saline wetlands lying a remarkable 40 m below sea level and is the largest lake in the insular Caribbean. Lago Enriquillo supports large numbers of waterbirds including, at times, hundreds of American Flamingos, as well as ibises, spoonbill, egrets, herons and shorebirds.
The threatened West Indian Whistling-Duck occurs here, as well as the threatened Hispaniolan Parrot, and both the White-necked Crow and the Hispaniolan Palm Crow. The sand- and mud-flats fringing the lake's shore can provide good shore-birding opportunities, while the marshy areas such as at Caño Boca de Cachón and Villa Jaragua may yield some rarely seen rails. Upland and scrub areas surrounding the lake will provide opportunities to see more common land birds like the Hispaniolan Oriole, Hispaniolan Lizard-Cuckoo, Greater Antillean Bullfinch and more.
On the north shore of Lago Enriquillo, access to the national park is a few kilometers east of La Descubierta at La Azufrada. From here boat trips can be arranged. Access to the northern shoreline can also be made by land at the Los Borbullones area via a dirt road in the village of Bartolomé.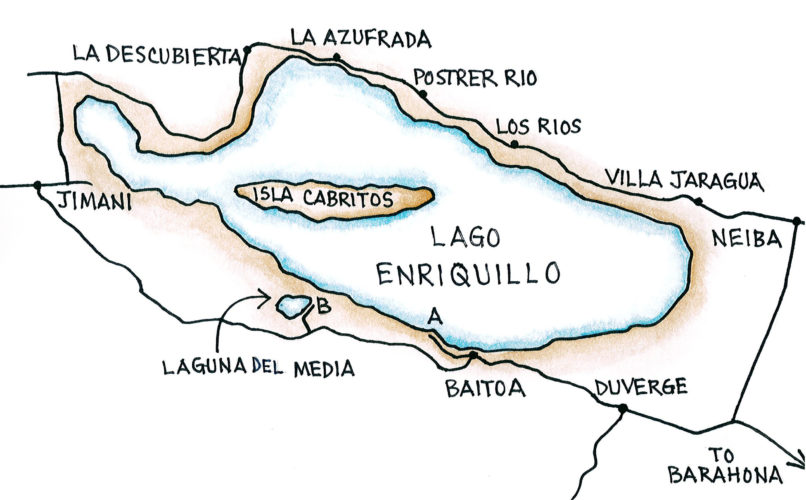 Access along the south shore:
Point A: Traveling from Duvergé towards the west, access to Lago Enriquillo's south shore is first made about 5 km (3.1 miles) west of the town of Baitoa. You can continue on this narrow dirt road about 2 km (1.2 miles) or until you enter a large cactus grove from which you can see the lake.
Point B: Laguna del Media – Continuing west you will reach a military guard post. A few meters further on look for a sharp right-hand turn onto a dirt road. As you proceed down this dirt road take the left fork and continue as far as possible.
Target species include West Indian Whistling- Duck, American Flamingo, Glossy Ibis, Snowy Plover, Black- necked Stilt, Greater Yellowlegs, Lesser Yellowlegs, Laughing Gull, Ring- billed Gull, Gull- billed Tern, Caspian Tern, Black Tern, Common Tern, Royal Tern, Sandwich Tern, Hispaniolan Parrot, Belted Kingfisher, Hispaniolan Palm Crow, White- necked Crow, Greater Antillean Grackle
Lago Enriquillo can be reached from Barahona by heading north until reaching the road to Duvergé and Jimaní at a major intersection. Turn west (left) and continue until reaching the crossroad to Neiba, marked by a statue of the Taino chief Enriquillo. You can continue straight ahead to the south side of the lake, or turn north to reach the park headquarters on the north side. If taking this route, continue north to Neiba where you will again turn left, passing through a series of small towns until arriving at La Descubierta.