The sister islands of Prickly Pear East and West are located just 5 miles north of Anguilla and are separated by a narrow channel. Both islands are uninhabited, however, Prickly Pear East is home to two restaurants that attract tourist traffic from Anguilla and the nearby islands of St. Martin/Sint Maarten and St. Barths.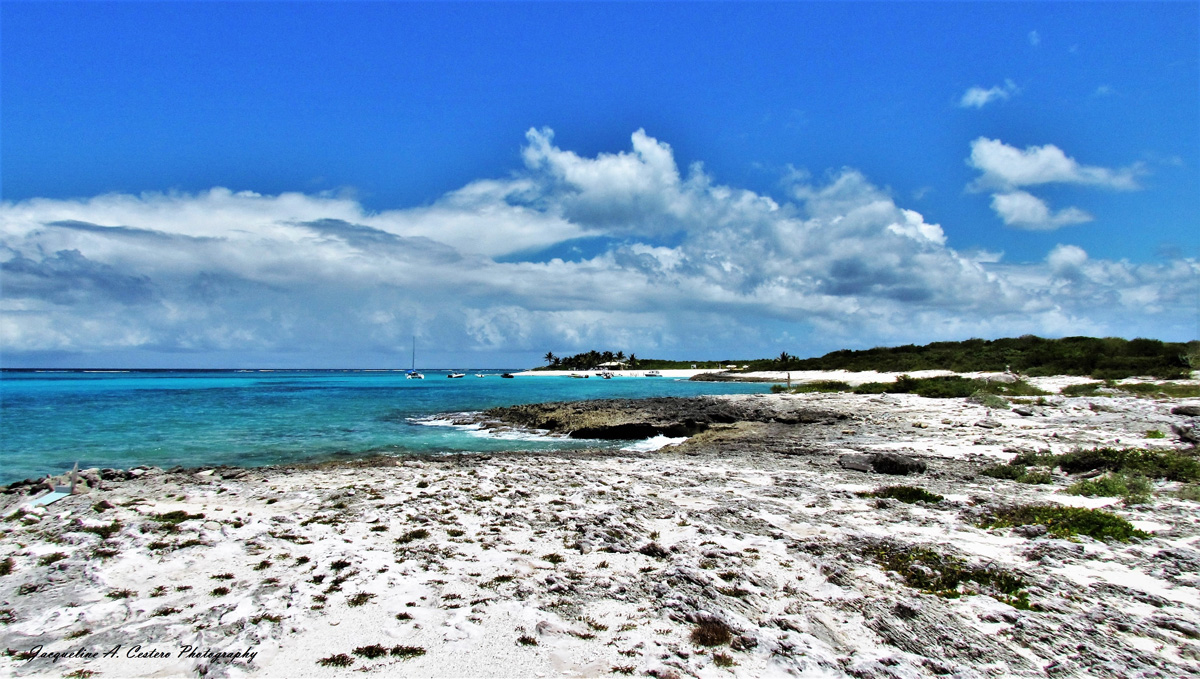 Prickly Pear East consists of an expansive beach on the northern and eastern side with rocky outcroppings to the west. A small pond is located behind the main beach on the north side. Less easily accessible, Prickly Pear West consists of one small, ever-changing beach and low limestone cliffs dotted with scrub.
In an effort to restore Anguilla's population of Lesser Antillean Iguanas impacted by the arrival of the Green Iguana with Hurricane Luis in 1995, the Anguilla National Trust has relocated a small number of the native species to Prickly Pear East.
The waters surrounding the Prickly Pear cays are protected as part of Anguilla's Marine Park system.  Endangered Hawksbill and Green turtles are known to nest on the beaches of Prickly Pear East, while the surrounding reefs provide an excellent opportunity for snorkeling.
Prickly Pear West is where you will find Anguilla's only colony of regionally important nesting Brown Pelicans.
Other regionally important species include: Red-billed Tropicbirds, Brown Noddies, Brown Boobies, and Least Terns. It has been reported that a small number of Red-footed Boobies have nested on the interior scrub. Touring the island via boat it is easy to see many of the birds along the cliff line. Keep an eye out for Red-billed Tropicbirds as they fly overhead and gangly baby pelicans on the eastern slope.
Prickly Pear East is an excellent spot to see Anguilla's globally important colony of Laughing Gulls.
Brown Boobies, Red-billed Tropicbirds, Least Terns, Brown Noddies, and Bridled Terns can also be seen nesting at this site. Be sure to visit the pond behind the main beach to see shorebirds like the Black-necked Stilt, as they feed along the edge.
One of the main visitor attractions of Prickly Pear East is the "Sugarbird" feeding station near the Prickly Pear Restaurant bar.  Here Bananaquits and Yellow Warblers literally eat sugar out of your hand. Even those who do not identify as birders, giggle with delight at this fun experience. Keep an eye out for Anguilla's National Bird, the Zenaida Dove, and the Lesser Antilles Restricted Range Caribbean Elaenia, in the surrounding trees.
Recent confirmed sightings of an endangered Piping Plover and a lovely male Blackburnian Warbler, mean you just never know what new birds you may find on a visit to these fun offshore cays.