Along the Étang de la Barrière, in French Cul-de-Sac, a 225-meter-long wooden path on stilts allows the discovery of a fascinating ecosystem between the land and the sea. Dominated by mangroves, this is a popular spot for numerous species of bird both local and migratory, particularly those that thrive in wetlands, such as Ruddy Turnstones, Greater and Lesser Yellowlegs and species of egrets, sandpipers, and plovers.
Étang de la Barrière is a salt pond managed by the Réserve Naturelle de Saint-Martin and is a protected nature reserve on the island. It has also been designated as a wetland of international importance by RAMSAR.
Size:  2.47 hectares, or approximately 6 acres
Features: An elevated, wooden boardwalk extends over 200 meters into the mangroves. A portion of the boardwalk features a viewing wall that allows visitors to observe birds without disturbing them. Informational signs in English and French explain the importance of mangrove wetlands and the life histories of many of the birds that can be seen at the site.
Visitors of all ages can easily see and learn about birds, and the viewing wall is ideal for wildlife photography.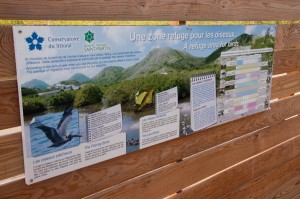 The bird species in this wetland include residents like the snowy egret and yellow warbler, overwintering species like the osprey and whimbrel, and wide variety of migratory shorebirds.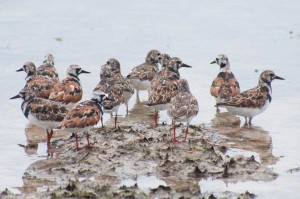 Local birders are still working on compiling a comprehensive bird checklist for this area. You can see what bird observations have been submitted thus far to the program Observado by clicking here.