Zapata Swamp (in Spanish, Ciénaga de Zapata) is located on the Zapata Peninsula in the southern Matanzas province of Cuba. Within the swamp there are numerous places to target for birding, and these are described below. In total, this area is over 6,000 km² and is the largest protected area in Cuba, and also the Caribbean! The swamp is known for its size, as well as for being the best preserved wetland in all of the Antilles, designated as a "Wetland of International Importance" by the Ramsar Convention on Wetlands in 2001.
Zapata Swamp has become one of BirdsCaribbean's favorite Cuban birding destinations. It's just a 360 experience of what birding is all about, from the scenery to the bird species to the adventure of getting there and out again. Be prepared to trek through thigh-high water to earn some of the best birds of the swamp, the Zapata Wren and Zapata Sparrow.
Nature enthusiasts will be excited to know that a trip to Zapata Swamp can also produce sightings of the Endangered Cuban Crocodile (Crocodylus rhombifer) and Vulnerable American Crocodile (C. acutus). The Critically Endangered Dwarf Hutia (Mesocapromys nanusoccur) is also known to this area, though a sighting would be extremely rare. Globally threatened sea turtles nest on the beaches, and the area supports the largest remaining population of the endemic, endangered Cuban gar, Atractosteus tristoechus, considered to be a living fossil.
Zapata birding hotspots
Bermejas, for birding in mixed forest habitat. Excellent chance for Bee Hummingbird, Gray-fronted Quail-Dove, Key West Quail-Dove, Ruddy Quail-Dove, Cuban Parrot, Cuban Blackbird, Cuban Bullfinch, Loggerhead Kingbird, Bare-legged Owl, and Cuban Pygmy Owl. The threatened Cuban Parakeet, Fernandina's Flicker, and Blue-headed Quail-Dove are also likely.
Cueva de los Peces, for great views of the gorgeous Blue-headed Quail Dove and other endemics. The site is named for one of Cuba's largest underwater saltwater caves, which swimmers are free to enjoy; there is also swimming and snorkeling at the lovely reef just off the beach.
Los Hondones, a developing eco-village where the community has begun organic farming and planting fruit trees for many endemic birds, such as the Cuban Parrot, Cuban Trogon, Cuban Tody, Great Lizard Cuckoo, Cuban Emerald, and many migrants. Evening birdwatching is great for Stygian Owl, Bare-legged Owl, Cuban Pygmy Owl, and the Greater Antillean (Cuban) Nightjar.
Las Salinas Trail, where habitat is varied with low, dense forest, mangrove, marsh, and open wetlands, which are great for the endemic Cuban Black Hawk as well as numerous shorebird, seabird, and waterbird species, including American Flamingo, Roseate Spoonbills, Reddish Egret, Wood Stork, and Clapper Rail.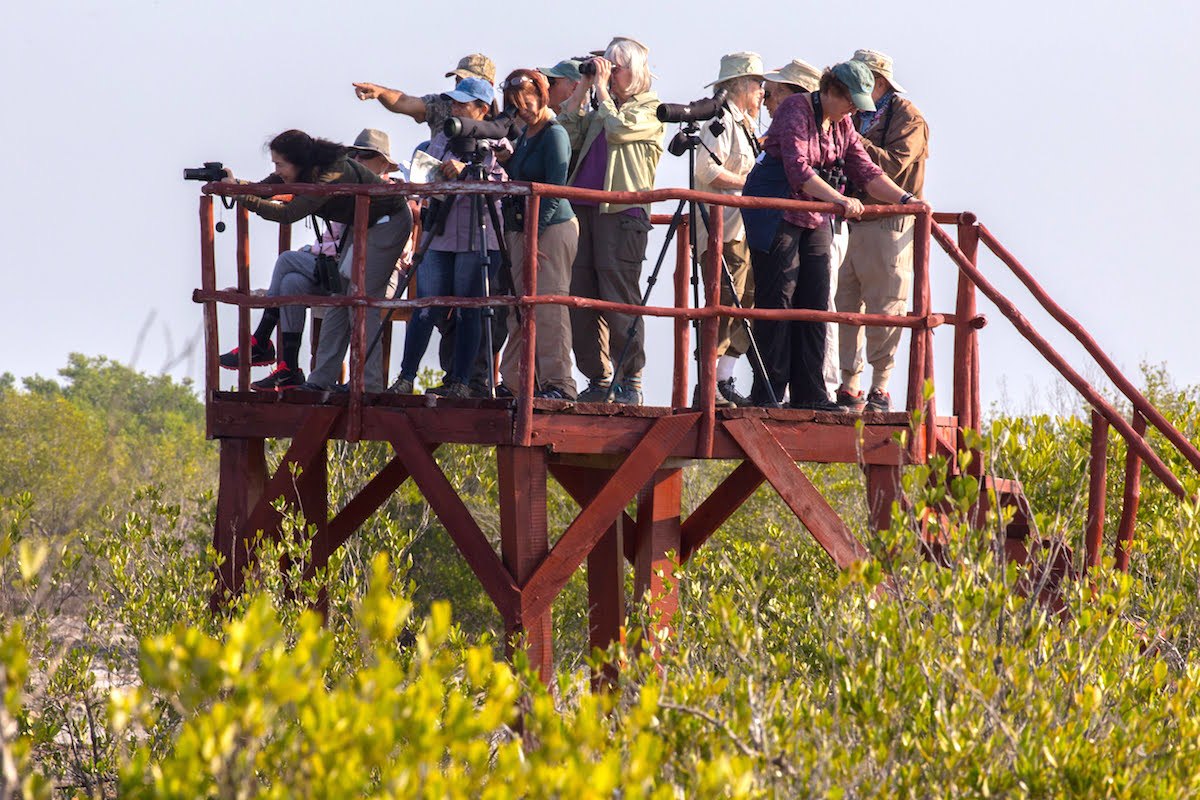 Santo Tomas, for birding from the water via pole-powered boats. This area, with its sawgrass tussocks, is the type locality for Zapata Swamp and a great place to see the Zapata Sparrow and Zapata Wren. Also be ready to spot species such as the White-crowned Pigeon, Great Lizard Cuckoo, Smooth-billed Ani, Cuban Tody, Cuban Bullfinch, and Purple Gallinule.
Zapata Swamp is home to 40 biome-restricted birds, including 17 globally threatened species, and 23 of the 27 Cuban endemic species! See list below.

Gundlach's Hawk

Cuban Black-Hawk

Zapata Rail

Gray-fronted Quail-Dove

Blue-headed Quail-Dove

Cuban Parakeet

Bare-legged Owl

Cuban Pygmy-Owl

Cuban Nightjar

Bee Hummingbird

Cuban Trogon

Cuban Tody

Cuban Green Woodpecker

Fernandina's Flicker

Cuban Vireo

Zapata Wren

Yellow-headed Warbler

Cuban Grassquits (Mostly locally extirpated by poaching, but some populations remain)

Cuban Bullfinch (recently considered endemic)

Zapata Sparrow

Red-shouldered Blackbird

Cuban Blackbird

Cuban Oriole



The only endemics not found here are the Cuban Kite, Cuban Solitaire, Cuban Gnatcatcher, and Oriente Warbler. Note the highly sought-after endangered Zapata Wren (Ferminia cerverai) and Zapata Rail (Cyanolimnas cerverai) are endemic to the site. The area supports large concentrations of waterbirds, including breeding populations of Sandhill Crane (Grus canadensis nesiotes) and Wood Stork (Mycteria americana). This is the last site in Cuba where the Critically Endangered Bachman's Warbler (Vermivora bachmanii) was observed, in 1964. The Zapata Swamp is also visited by 65 species of birds during their migration from North America through the Caribbean to South America.
Specialty birds to target: Zapata Wren, Zapata Sparrow, Zapata Rail, Bee Hummingbird
Using the National Highway, travel east 142 km from Havana until you reach an exit that turns off to the right (south). After 8 km, this road enters the Zapata Swamp, and 22 km later you reach the town of Playa Larga.
If approaching from the east, the main entrance is by Yaguaramas (Cienfuegos province) via the Playa Girón road.
There are three government owned hotels within the greater Zapata area:
Villa Guamá

, located at Laguna del Tesoro. Relatively good for relaxing and spotting some freshwater habitat birds nearby, but not ideal if you are planning on traveling further, because the only way to get out the lagoon is via one of the motor boats that typically don't arrive until long after work hours start in the morning.

Playa Larga Hotel, located in the town of Playa Larga. This hotel is centrally located and is known for being a good place to see some target species such as the Stygian Owl, Cuban Nightjar, Cuban Parrots, Cuban Trogon, and Cuban Green Woodpecker.
Playa Girón Hotel, located in the town of Playa Girón. This hotel has high quality food and comfort. It is close to Bermejas, but farther from most everything else.
Around Playa Larga, the proven best accommodation options are "Casas particulares", which are private houses that rent rooms (and sometimes the entire house). They have better conditions and offer much better services than most of the hotels. Also, hosts can help larger birding groups find additional casas nearby for additional rooms. The best location to book a casa particular is in the town of Playa Larga. This location offers the closest access point to all of the different birding trails, and also offers nearby amenities such as a bank, currency exchange office, telephone company office, and a medical clinic.
We highly recommend Ernesto Reyes (zapatarail20[email protected]) and Tania Piñeiro ([email protected]).
Ernesto and Tania both lead birding tours in partnership with BirdsCaribbean. Profits from these tours are directed straight to bird conservation projects throughout the Caribbean.