The Loma Charco Azul Biological Reserve is located within the Sierra de Bahoruco mountain range in southwest Dominican Republic. The reserve is 17,400 hectares in size and was established in 2009 as a result of the partnership between Grupo Jaragua, American Bird Conservancy, the Dominican government and the Dominican Environmental Consortium.
Management of the reserve is overseen by the Sociedad Ornitológica del Hispaniola (SOH) with support from the American Bird Conservancy and the U.S. Fish and Wildlife Service. This support is helping to employ park guards and develop new tourism infrastructure that will attract birdwatchers and stimulate economic opportunities for local communities. The new infrastructure includes a recently completed Visitor Center in Puerto Escondido that will provide information about the protected areas, and a new mural that points the way in the gateway town of Duvergé. The mural is located at the corner of Avenida Duarte (the primary road through Duvergé) and Calle Nuestra Señora del Carmen, which is taken to get to Puerto Escondido.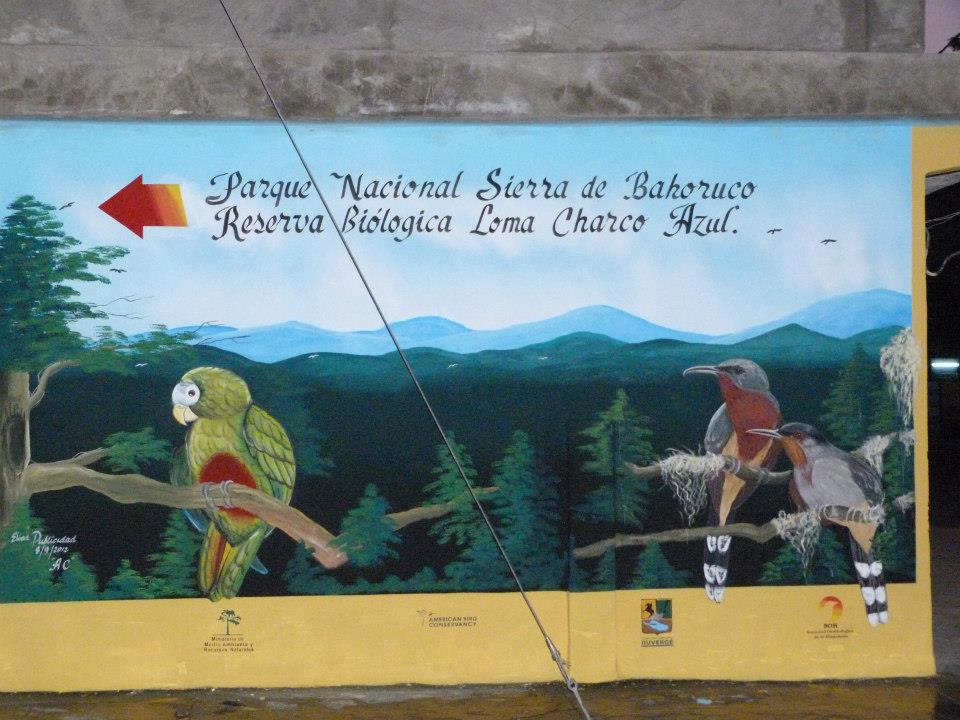 There is currently one main trail that makes a loop through the reserve and will take approximately one hour or less. The trail is flat and easy to walk and will take you to several good stops for birdwatching. The SOH is working on trail development and soon there will be interpretive signs and more trail information available at the visitor center and on this website.
The reserve provides essential habitat for high numbers (32 of the 34) of Hispaniola restricted-range birds, 14 threatened bird species and over 30 Neotropical migratory birds. Key among the endemics there are the Bay-breasted Cuckoo, La Selle Thrush, Hispaniolan Crossbill and a good population of the Vulnerable Hispaniolan Amazon.
From the town of Barahona, take the main road north toward Santo Domingo until reaching a major intersection and the road to Cabral, Duverge, and Jimani. Turn left and continue to Duverge (about one hour driving time). In Duverge look for signs for a left turn to Puerto EScondido; this sign may be missing, but the turn is the fifth left after the gas station in town. Follow this road southward as it leaves town and soon becomes dirt.
You will follow a small river bottom, and then steadily climb along an aqueduct through dry and dusty hills until reaching the small village of Puerto Escondido (National park house will be on the right as you enter the village, be sure to stop and buy an entrance ticket to the park).
At the T intersection in Puerto Escondido take a right. You will pass a military guard post on the right, and then continue through the valley, which is dominated by large avocado plantations on the left. You will reach a gate house where the guards are posted for the Loma Charco Azul reserve. Let them know you are there bird watch.