Los Haitises National Park: Los Limones
Los Limones in the province of Monte Plata is an alternative entrance to Los Haitises National Park and a likely place to find the critically endangered Ridgway's Hawk; Los Haitises National Park is the last stronghold of this endemic species. In the vast interior of this national park, typical birds of the broadleaf forest include White-crowned Pigeon, Hispaniolan Parrot, White-necked Crow, Broad-billed Tody, Greater Antillean Pewee, Stolid Flycatcher, Black-crowned Palm-Tanager, and Hispaniolan Oriole.
Birding Areas
A local guide is necessary here. There are several places where the hawk may be seen from the road, or by following short trails in the farm plots. Your guide will know where the hawk has been seen most recently. Many birds are faithful to the same tree and the same nest year after year. Through the educational efforts of the research team, many of the families have now become proud guardians of "their" hawks and will be glad to explain where and when the hawk may be seen. We strongly recommend arrival in the early morning, both for the better chance of seeing the birds, and to avoid the mid-day heat and humidity.
Target Species
Ridgway's Hawk, Antillean Piculet, Hispaniolan Pewee, White- necked Crow, Red- legged Thrush, Worm- eating Warbler
Access to Los Haitises National Park through Los Limones involves a series of slightly tricky turns. From Santo Domingo head east towards Las Americas International Airport. Before arriving at the airport, look for a turnoff on the left for Samaná. This road enters a short tunnel, and then a second left turn takes you onto the marginal road. Almost immediately there is a right turn which is the entrance to the new toll road; you will enter at Km 160. Have your change ready; you will encounter tolls for $RD 43 and $RD 149 on both your outbound and inbound drives. Continuing on the toll road, you will pass by a series of exits including that for Monte Plata. The exit you want is rather irregular! You will pass a sign for the "Distrito Municipal Gonzalo," pass the kilometer 110 marker, and cross a small bridge. At a very sharp hairpin turn, just before the kilometer 108 marker, and marked by a blue house on the hill to the left, look for an exit on the right with signage only visible after you get into the turn. Turn right here; the center of Gonzalo is reached after about 1.5 kilometers. There is a park with a kiosk on the right, and you should see a sign for Los Limones on the left. Turn here and then almost immediately you will be on a rough unpaved road. Continue on this road for 11 km (6.8 miles) to Los Limones.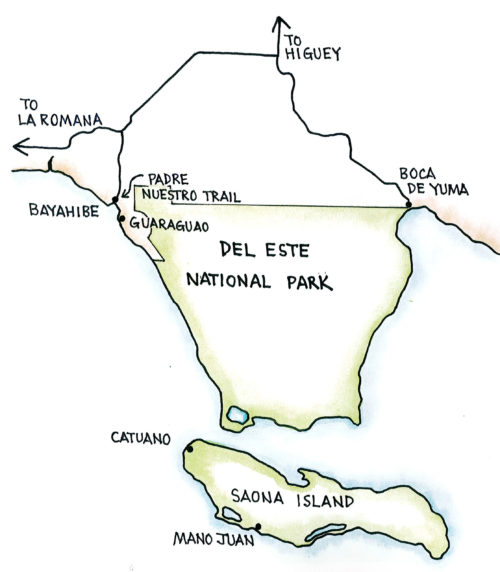 Del Este National Park (Map by Dana Gardner)
Los Haitises National Park: Los Limones