South Caicos' great variety of habitat within a small island provides excellent bird-watching opportunities. Many areas are within walking distance of the town, but it is advisable to hire a car, golf cart or bicycle to explore further afield. It is about 10 miles from Cockburn Harbour to the end of the peninsula in the north. South Caicos is a quiet, uncrowded place, with a rich cultural history, making it a great destination for bird watching and relaxation. Oval in shape, with a long peninsula extending north on the eastern side, South Caicos is ~3.5 miles across, with the eastern coast ~6 miles long. It has many different types of habitat, giving birdwatchers opportunities to see a large variety of birds. These habitats include a large number of salt ponds and salinas, mangroves, marshes, rocky shores and low cliffs, freshwater wells which tap into the freshwater lens, sandy and rocky shores, and recovering dry tropical forest. The harbour, which services an active fishing industry, is a great place to spot a variety of seabirds, and offshore a mangrove bush, known locally as Bird Cay, is a nesting site for Magnificent Frigatebirds.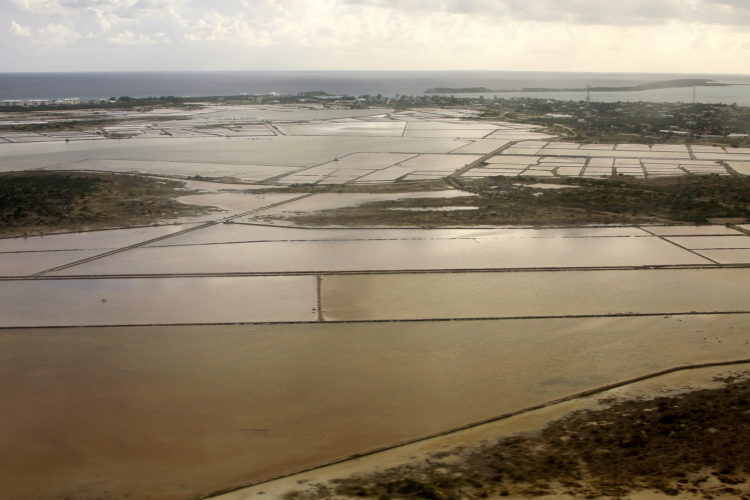 Boiling Hole, where seawater from an underground passage flows into the salinas, is the most productive area for birds, as the water here is oxygenated because of the tidal flow. The other extensive parts of the main salinas in the centre of the island are less so, due to somewhat anaerobic conditions. Near Boiling Hole is where the flock of flamingos can usually be found, and by walking slowly along the old tracks and walls giving access to Boiling Hole, they can be approached quite closely.
Cockburn Harbour is a good place for looking for seabirds, such as Magnificent Frigatebirds. Watch out also in this area for House Sparrows. North Caicos has a thriving colony, until recently the only one in TCI. House sparrows were introduced by the British to many parts of the world and in some cases have become pests. Ironically they are now in serious decline in Britain.
The Valley, on the eastern side of the island, is an area where the freshwater lens is accessed by some wells. The vegetation here provides a good opportunity to see a number of the land birds, like the Mockingbirds, Smooth-billed Anis, Doves, Warblers, Bahama Woodstar, Indigo Bunting.
The Peninsula is where a low-impact development, Sailrock, is taking place. The vegetation is coastal coppice, and the low cliffs provide nesting areas for White-tailed Tropicbirds.
Basden Ponds has mangrove and marsh habitat, and a variety of waterbirds can be seen here, depending on season and water conditions.
A guide booklet, "Bird Watching in Paradise – South Caicos; Turks & Caicos Islands: A guide to birdwatching and heritage sites", with full color photographs of birds, maps and guiding text, can be purchased from the National Museum gift shop and other outlets (e.g. Seaview Supermarket (at the harbor), Ocean and Beach Resort, and the School for Field Studies), or from the UK Overseas Territories Conservation Forum (UKOTCF) as a PDF download suitable for tablets. It gives full details of how to get to South Caicos, and practical information such as hotels, restaurants, shops, and car and bicycle rental. The two trails are marked by numbered posts and are interpreted with full-colour laminated guides, including photos. The booklet (in hard copy or download) retails for $10, and the trail guide cards for $5 each. Part of the purchase price goes back to supporting conservation in TCI, and maintenance of the trails. There are no entrance fees for the bird trails.