Quill/Boven National Park
The Quill National Park is the only place on St. Eustatius where visitors can often see the Bridled Quail-dove. Pilot Hill and Zeelandia beach offer visitors the opportunity to get at close range with Red-billed Tropicbirds during the nesting season (October-June).
This park of 5.4 square kilometers consists of two sub-sectors – the dormant volcano 'The Quill' and 'White Wall', the limestone formation located on the south side of the volcano – and the 'Boven' area covering five hills in the north of St Eustatius. The park is managed by St. Eustatius National Parks (STENAPA).
The Quill National Park is a dormant volcano situated at the southern end of the island of St. Eustatius. It offers hikers the opportunity to visit 8 vegetation zones, from dry forest to evergreen seasonal woodland. Hikers to the Quill can see the endangered Bridled Quail-dove and other types of dove including the Scaly-naped Pigeon, as well as the common Pearly-eyed Thrasher and its relative, the Scaly-breasted Thrasher. Red-tailed Hawks cruise the outer slopes and above the impressive crater, not to mention three species of hummingbird, the Caribbean Elaenia and Yellow Warblers. There are 8 well-maintained hiking trails within the park, supported by at least one information board along each trail.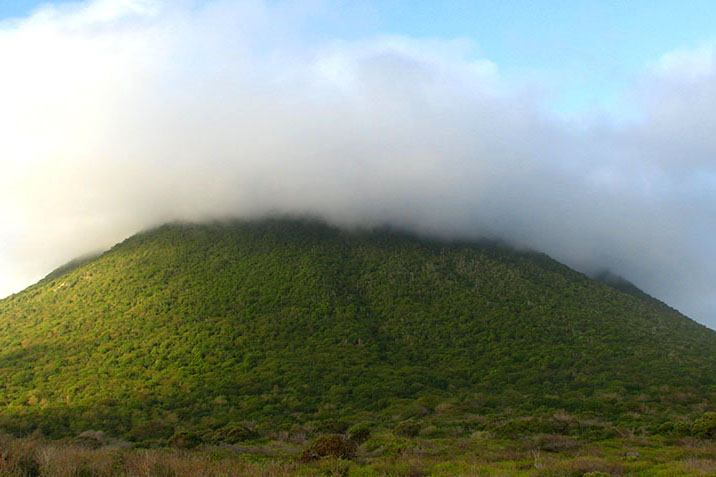 Pilot Hill, located along the rocky eastern coast facing the Caribbean Sea, is the main nesting site for Red-billed Tropicbirds. Visitors can accompany STENAPA staff during breeding season as they monitor accessible nests once a week. This is an amazing opportunity to get close to this magnificent pelagic seabird as it incubates an egg or protects its chick. The birds will not fly away when approached and we offer an incredible and unique opportunity for those interested to learn more about the biology and reproductive success of this bird.
Visitors to the Quill National Park must purchase a hiking tag for $10. This is valid for one year and allows hikers to enjoy and make use of all the trails within that time. A guided hike costs $35 per person (including hiking tag, minimum 2 persons) and is offered by trained STENAPA staff or our associates. Guided hikes can be customized to fit the exact wishes of our visitors, eg. birds, orchids, butterflies, plants.
To get to Statia visitors must fly from St. Maarten. The island is small with a variety of accommodation, from 3-star hotels to a local home stay program. Persons making use of a guide can be picked up and dropped off at their accommodation.
Quill/Boven National Park