The Parque Zoológico Nacional (National Zoological Park), or ZooDom, is located in northern Santo Domingo. The zoo is fortunate to be situated on 125 hectares of rolling forested hills with 8 km (5.0 miles) of roads. Animals are largely confined to natural enclosures with few caged exhibits, and so most of the animals are free to roam rather widely. An interesting snake pavilion is being extensively remodeled, as is the huge outdoor aviary which promises to be a tourist treat. Among birds, cassowary, Demoiselle or Blue Crane, Crowned Crane, and Maribou Stork are highlights. Although a captive population, the zoo has a colony of American Flamingos that regularly nest in a small impoundment on the stream that runs through the zoo.
The zoo is also actively involved in conservation efforts. They are also the repository of confiscated protected species, and unfortunately are obligated each year to handle dozens of parrots, parakeets, Hispaniolan boas, and iguanas which are deposited by the Environmental Police or concerned citizens. Some of these can be returned to the wild in short order, but many more, because they are removed from their nests at a young age, are being rehabilitated in hopes that they too can be released. Because of the delicate nature of the work, these facilities are not open to the public.
Trail difficulty: 1
Entrance fee: Dominicans $RD 50, Foreigners $US 10
Reserve hours: 9:00 AM to 5:00 PM, Tuesday – Sunday, closed Monday
Address: Avenida La Vega Real (antigua Ave. Los Arroyos) Arroyo Hondo Santo Domingo
Website: www.zoodom.gov.do and on Facebook at www.facebook.com/ZOODOM
Upon entering the main plaza of the zoo, walk to the left where a natural spring fills a pool where the threatened Caribbean endemic West Indian Whistling-Duck can be found, although be careful to look for leg bands because some individuals are captive. White-cheeked Pintails are also seen here, as well as the American Flamingos. Take the small passenger train to the upper part of the zoo, or walk the main road. There is a paved trail that is mostly level and runs through the forest at the upper part of the zoo. This circular trail begins at a point between the entrance of the Children's Zoo and the Gran Pajarero (aviary) which is currently closed for reconstruction. The vegetation is mainly broad-leaf trees with manacle palms, with more recently disturbed areas of grass and shrub that may harbor Yellow-faced Grassquit and other seedeaters. The roadcut with its exposed banks may provide nesting sites for the Broad-billed Tody, often located by the typical "twerp, twerp, twerp" call, while the adjoining, higher-stature forest may provide habitat for such species as the Hispaniolan Woodpecker, Stolid Flycatcher, Red-legged Thrush, Ovenbird, and Black-crowned Palm-Tanager. Parrots and parakeets frequently forage in these trees, or pass by on their way to more productive sites, and the large Antillean Mango hummingbird is always possible.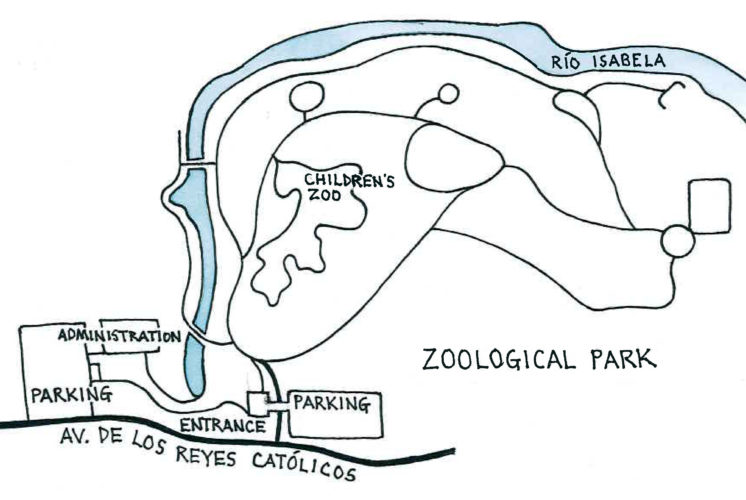 Target Species: West- Indian Whistling Duck, Hispaniolan Parakeet, Hispaniolan Parrot, Hispaniolan Lizard- Cuckoo, Antillean Mango, Vervain Hummingbird, Yellow- throated Vireo, Caribbean Martin, Northern Mockingbird, Palmchat, Northern Parula, Black- crowned Palm- Tanager, Yellow- faced Grassquit
The Zoo is at the northern edge of Santo Domingo and may be reached from the city center by taking Ave. Ortega y Gasset north to the Paseo de los Reyes Católicos. At this T-intersection take a left and follow the outside wall of the zoo. The first right will lead down a short but steep slope to the first zoo entrance. But it is better to continue a short distance further to the second entrance which has a larger parking area. The administration buildings are found there as well.