Beautiful little harbor surrounded by an extensive expanse of mangroves. The freshwater lagoon is connected to the ocean by a narrow 1.0 km (0.6 mile) canal that runs through a forest of red mangroves. Located on the north coast of the Dominican Republic between Puerto Plata to the east and Nagua to the west, the lagoon is entered through the small fishing village of Río San Juan. A boat trip from the town center takes you through the short river in the mangroves, then out to the sea and along the coral cliffs to a small beach. Along the way, look for typical mangrove species including herons, egrets, and warblers. A walking trail is also available.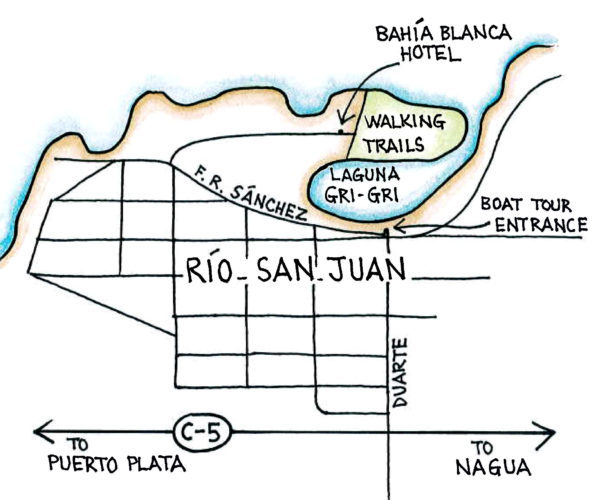 The extensive mangroves are the attraction here. These are most often accessed by boat. Half-day lagoon tours can be arranged through many hotels, but if you're staying in Río San Juan you may just want to amble down to the dock and make your own arrangements with one of the fishing boat captains. The lagoon is open daily during daylight hours only but it is best to try and go in the early morning.
Another option is to walk to the mangroves. To get to the walking trail, head west from the harbor on Sánchez, and then turn right towards the Bahía Blanca Hotel. There a path leads to the coast where you can then turn towards the right to reach the mangrove forest. Once at the mangroves there are two narrow trails: the left-hand trail is private but the right-hand trail is public. Ask at the hotel for more information.
Target Species: Brown Pelican, Magnificent Frigatebird, Snowy Egret, Little Blue Heron, Tricolored Heron, Reddish Egret, Black-necked Stilt, White-crowned Pigeon, Mangrove Cuckoo, Cave Swallow, Barn Swallow, Greater Antillean Grackle, Hispaniolan Oriole
The Gri Gri Lagoon is accessed through the town of Río San Juan, which is located between Nagua and Puerto Plata on the C-5. From Nagua, continue west on the C-5 following signs for Cabrera. In Cabrera, continue straight ahead, but you will bear left at a minor fork in the road to remain on the highway. Approximately 56.3 km (35 miles) from Nagua you will arrive in the town of Río San Juan and the main crossroad street of Calle Duarte. From the corner of the C-5 and Duarte, head north on Duarte a few blocks to the harbor. The lagoon is one of the main attractions in the town and signs to reach it are prominently placed.