Queen Elizabeth II Botanic Park
The Queen Elizabeth II Botanic Park is located in the eastern, less developed side of Grand Cayman. One hundred and thirty species of birds have been recorded at this eBird Hotspot. The Park is also home to the Blue Iguana Conservation facility, operated by the National Trust for the Cayman Islands.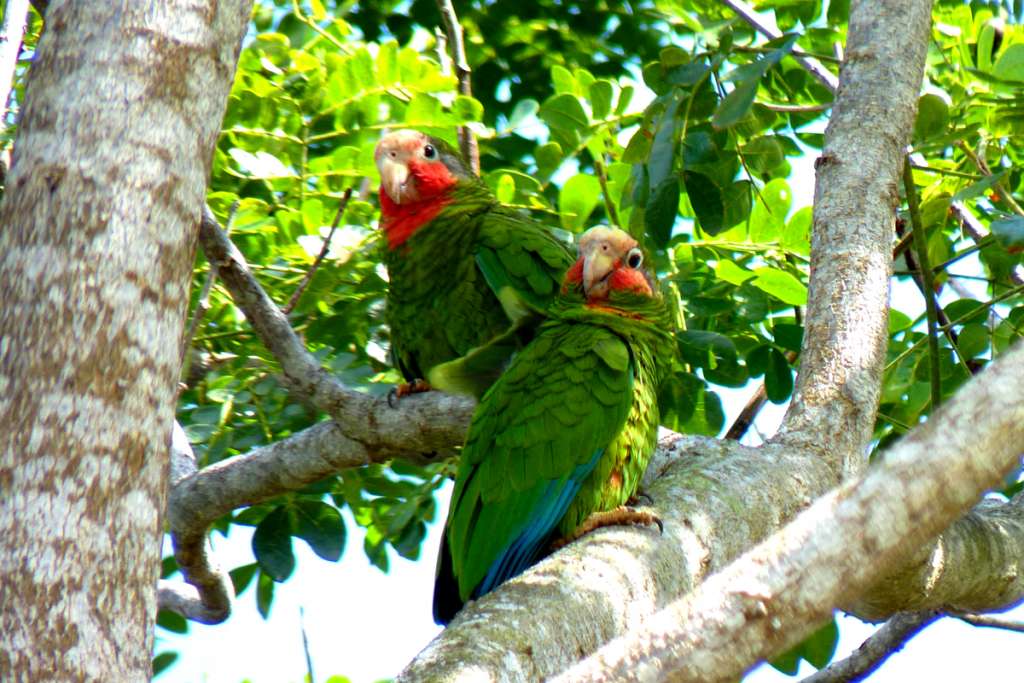 The 65 acre site boasts a variety of habitats including native forest, wetlands, a natural lake, as well as several cultivated gardens, These include, a heritage garden featuring an old Caymanian cottage set in a traditional  sand yard, decorated with conch shells, and displaying the traditional ornamental plants.  The displays include grounds, or areas where root crops and vegetables would be cultivated, and the medicinal garden with the types of plants Caymanians used to treat various ailments. There is also a collection of the traditional fruit trees.  Other gardens include a xerophytic garden, a palm garden, an orchid boardwalk which meanders through a section of seasonally flooded forest, and an extensive floral colour garden. A children's garden, featuring a learning center and viewing tower is the latest addition.
Wide, level, pathways meander through the gardens, providing excellent access to the abundant and approachable birds that perch in the shrubs and in the shady trees overhead. Most of the paths are suitable for wheelchairs, and a golf cart is available to transport less mobile guests.  Several benches are located along the pathways, and picnic tables are located outside the Visitor Center, and beside the natural lake.
Visitors can also explore the natural habitats of the Park by walking the woodland trail. This loop is just under a mile in length, and along the way, the landscape changes every few hundred yards from wetland to cactus thicket, logwood swamp to humid epiphyte woodland, dry thickets on scant soil to tall woodland with impressive Mahogany trees. The trail also provides access to the Blue Iguana Conservation facility.
Restrooms are located in the Colour Gardens, and at the Visitor Center, which also offers a water cooler, and sells snacks and drinks, as well as reasonably priced souvenirs and nature books. These include the excellent book "A Photographic Guide to the Birds of the Cayman Islands".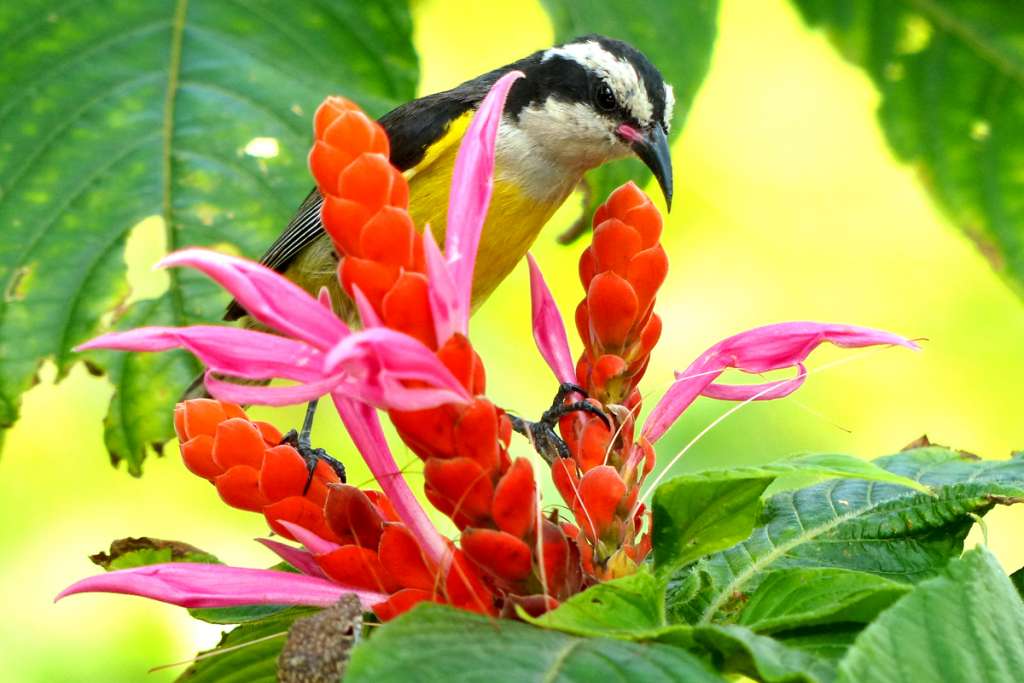 All thirteen woodland birds that are unique to Grand Cayman may be seen here. Of these, the Cuban Parrot, Vitelline Warbler, Cuban Bullfinch and Thick-billed Vireo are also considered to be restricted range species.
Non-endemic forest birds that are commonly seen include the White-crowned Pigeon, White-winged Dove, Common Ground Dove, Zenaide Dove, Yellow-faced Grassquit, Northern Mockingbird, Mangrove Cuckoo, Yellow Warbler, La Sagra's Flycatcher, and Smooth-billed Ani.
Between early Autumn and late Spring, the Botanic Park is also a great location to spot migratory birds. Warbler species that frequently over-winter here include Cape May, Black and White, Yellow-throated, Black-throated Blue, Northern Waterthrush, Northern Parula and American Redstart. Several other warblers routinely visit the Park as passage migrants, while other warbler records are of extreme rarities.
Other migratory forest birds recorded at the Park include the Scarlet and Summer Tanagers, Grey Catbird, Rose-breasted Grosbeak, Baltimore Oriole,  Yellow-bellied Sapsucker and Black-whiskered Vireo.
The mangrove-fringed pond is a magnet for Blue-winged Teal, herons and egrets, sandpipers and other waterbirds, and is a breeding site for the West-Indian Whistling Duck, Pied-billed Grebe, Black-necked Stilt,  and less frequently Purple Gallinule and Least Bittern.
The Queen Elizabeth II Botanic Park is located about a mile off the Frank Sound Road, about a 25 minute drive from the capital city of George Town. It is best accessed by rental car as taxis are expensive. The local bus service is another option. More details are available on the Park's website.
Accessing the Park from any location on the island is less than an hour's drive, but the most convenient tourist accommodations are in the surrounding districts of North Side (Old Man Bay, Rum Point), East End (Morritt's Tortuga, Wyndham Reef), and Bodden Town (Turtle Nest Inn).
Queen Elizabeth II Botanic Park